You can find the latest version of the Citrix Visio Stencil from here: Tools
Hopefully by now, you've heard of Citrix Project Accelerator. If not, I suggest you take a look at the following blogs:
Citrix Launches Free Tool to Take Guesswork Out of Desktop Virtualization
Playing 20 Questions with Project Accelerator
By spending a little time in the Assess phase, Project Accelerator creates this awesome looking diagram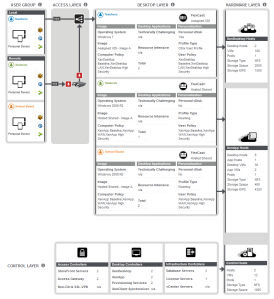 The truth is, this diagram took many, many, many revisions. We wanted to create something that was easy to follow while providing the most important information people wanted to see, which included IOPS, servers, VMs, storage space, desktop images, infrastructure components, and so much more. It took a few revisions before I had something in Visio that did all of that. Then we gave my diagram to Marta Guerra, a senior designer on the Project Accelerator team. She turned the diagram into something easy to follow and very clean with new images/icons for all of the components. I'm still impressed. I know many of you are too because you've asked for the Visio stencils.
Unfortunately, Project Accelerator diagrams aren't done in Visio, but that didn't stop us from giving you what you wanted. With the help of Marta, I've been able to turn these images into a new set of Citrix Visio Stencils.
Get them here!
Enjoy!
Daniel Feller – Lead Architect